2023 Ambassadors
If you are interested in being an ambassador for 2024, please do not hesitate to get in touch with us!
Nina Schrinner
Lady Mayoress of Brisbane and Chair of the Lord Mayor's Charitable Trust
Nina has a real passion for people and loves the opportunity to provide encouragement and support for the fantastic work being done by charities across Brisbane.
As the Chair of the Lord Mayor's Charitable Trust, Nina is devoted to ensuring the Trust not only continues supporting grassroots charities that are having such a big impact in our community, but also to enhance Brisbane's reputation as a friendly and compassionate city that will host the 2032 Olympic and Paralympic Games.
---
Loretta Ryan
ABC Radio Presenter
Loretta Ryan is a prominent figure in Australian broadcasting with an illustrious 40-year career. As a beloved voice on ABC Radio Brisbane, she deeply connects with her audience through authentic storytelling.
Born and raised in Brisbane, Loretta's journey in radio led her through esteemed roles at Radio Ten, Triple M Brisbane, 4BH, and 4BC before settling at ABC Radio Brisbane.
---
Fleur Madden
CEO & Co-Founder of Freelancing Gems
Accomplished entrepreneur, speaker, and women in business advocate. With a track record of founding and selling multiple successful businesses, Fleur creates opportunities for women to grow and succeed. Featured in various publications and media outlets, she passionately advocates for women's advancement in the workplace, dedicating her career to empowering women's growth.
---
Sharon Orapeleng
Founder and Director of Psyched Solutions
A tireless advocate for social inclusion and justice, with an extensive background in behavioral sciences and community development. As the founder and director of 'Psyched Solutions,' her work in mental health and passionate advocacy for social justice perfectly align with our mission to provide dignified, fit-for-purpose housing for Brisbane's hidden homeless.
---
Kerri-Anne Dooley
Founder of My Care Enterprises
A healthcare trailblazer, seasoned nurse, entrepreneur, and community advocate. As founder of My Care Enterprises, she provides personalized nursing services, catering to diverse clinical needs. Beyond her profession, Kerri–Anne holds leadership roles in community organizations, including Crime Stoppers and QLD Cancer Council Relay for Life. Her instrumental role in establishing Hummingbird House, Queensland's only children's hospice, stands among her outstanding achievements.
---
Curvy Sam
Digital Influencer
Also known as 'your virtual BFF' is a celebrated lifestyle blogger and content creator renowned for her commitment to body positivity and wellbeing. With a loyal social media following, she offers fashion, travel, and wellness guidance. Driven by inclusivity, Curvy Sam founded @athomewithhilda, a size-inclusive Sleep Dresses & Robes brand for sizes 8–34. Her passion for ensuring comfort and representation shines through.
---
Kristy Morris
CEO and Co-Founder of KAILO
A dedicated mum, successful entrepreneur, and co-founder of Kailo, Australia's leading luxury wellness brand. Her passion for health and well-being extends to our cause, understanding the importance of secure and safe housing as a foundation for happiness.
---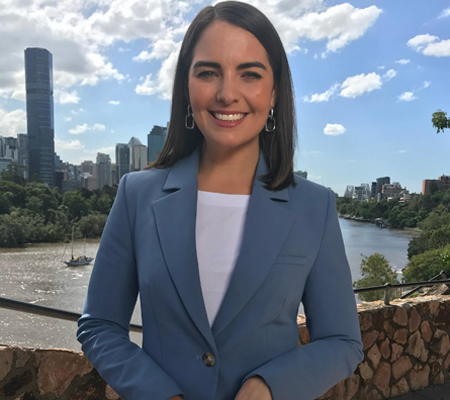 Georgie Chumbley
News Reporter
The beloved Queensland correspondent for @sunriseon7, With an exceptional career in TV journalism, Georgie's dedication to telling impactful stories has made her a beloved figure among Queenslanders.
Her reporting has taken her across diverse regions in Queensland, captivating audiences with impactful storytelling.